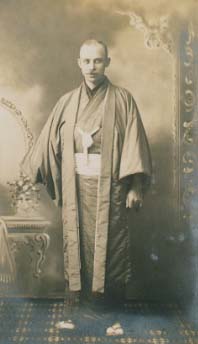 Jan Letzel's Achievements

Jan Letzel was born on September 4, 1880 in the town of Nachod, Czech near the border of Poland, which at that time belong to the Austria-Hungary Empire. In 1901 Letzel was an accomplished student at the UMPRUM's architect department (now, Prague Art College) under Professor Jan Kotera (1871-1923) (when Kotera was a disciple of the number one Sezession architect in Vienna, Otto Wagner (1841 -1918)), a world renown founder of modern architecture in Czechoslovakia. Letzel graduated from the college in 1904.

Photo: Letzel around 1908 (Courtesy of Drahomir Klicova)

Letzel entered the Quido Belsky's architectural office in Prague. Letzel joined to plan the Grand Hotel Evropa under the chief architect: Betrich Bendelmaier. In 1905 Letzel planed the Hall of Msene Springs. In October 1905, he went to work in the Fabricio Pascha's architectural office in Cairo, Egypt.

In July 1907, after a stint working in Egypt, Letzel came to Japan, where he landed a job as a designer in the DeLalande architectural office in Yokohama. George DeLalande (1872-1914) was a distinguished architect at that time.

In October 1909, he formed a partnership with Karel Jan Hora which was named Letzel and Hora Co., Lid., establishing an architectural office in Izumo-machi, 3-banchi in Tokyo's Ginza district. In April 1913, the office was moved to the 3rd Mitsubishi Building in Koji-machi. As Hora returned to Czech, at the end of June, 1913, the company was dissolved. Letzel made his own company. In 1915, due to the recession following World War I, the company's office was closed. A few years Letzel continued to work as a designer. In the nearly ten years he worked on architectural design in Japan, Letzel created more than 15 works, including the Main Hall and Front Gate of the Seishin Women's School, the Futaba Women's School, the Dai Nippon Private Sanitary Association, the Dr. Bryan's residence , the Baron Nagayo's residence, the Matsushima Park Hotel, the Sophia University school building, the Ueno Seiyoken, and in Hiroshima Prefecture, the Miyajima Hotel and the Commercial Exhibition Hall. (Regrettably, most of these structures have been destroyed through such events as the Great Kanto Earthquake and damage brought about by war.)

During the World War I Letzel supported that many Czechoslovakian soldiers returned to their own country. From 1919 to 20, Letzel served as commerce officer of the independent Czechoslovakia consulate in Tokyo. On March 26, he left from Japan. On November 15, he visited Japan again as a trader. On September 1, he met with the Great Kanto Earthquake. On November 27, he returned to Czech. On December 26, 1925, Letzel passed away in Prague from illness. He was 45 years old.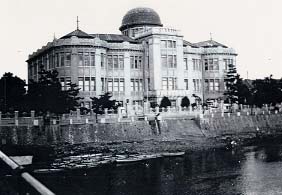 History of the A-bomb Dome
Making of the Hiroshima Prefectural Commercial Exhibition Hall
Commercial Exhibition Hall and Jan Letzel
Transformation of the Hall: From Commercial Exhibition Hall to Products Exhibition Hall to Industrial Promotion Hall
From argument of existence or demolition to permanent preservation---preservation activities and construction
Registration on the World Heritage List